Node.js installation configuration

In this chapter we will introduce you to how to install Node.js on Windows and Linux.
This installation tutorial uses the Node.js v4.4.3 LTS (Long Term Support Version) version as an example.
The Node.js installation package and source code download address is:Https://nodejs.org/en/download/.
You can choose the Node.js installation package you need for different platform systems.
Node.js historical version download address:Https://nodejs.org/dist/
note:
Installing Node.js on Linux requires Python 2.6 or 2.7. It is not recommended to install Python 3.0 or higher.
---
Install Node.js on Windows

You can install it in two ways.
1, Windows installation package (.msi)

32-bit installation package download address:Https://nodejs.org/dist/v4.4.3/node-v4.4.3-x86.msi
64-bit installation package download address:Https://nodejs.org/dist/v4.4.3/node-v4.4.3-x64.msi
The example in this article uses the v0.10.26 version as an example. Other versions are similar.installation steps:
Step 1: Double-click the downloaded installation packageV0.10.26,As follows: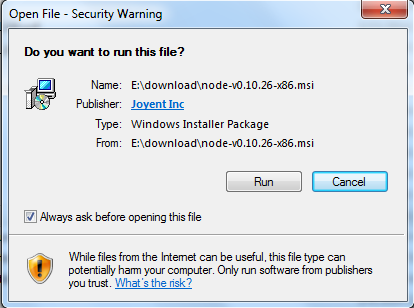 Step 2: Click on the above Run, the following interface will appear: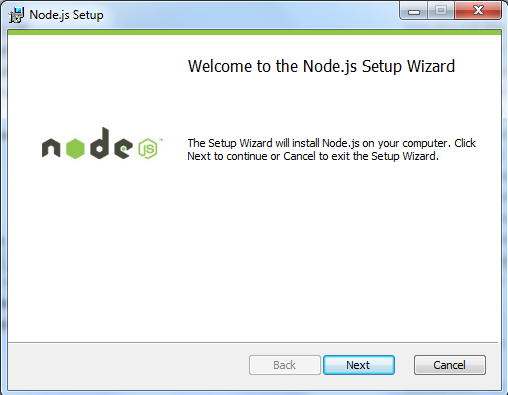 Step 3: Check the Accept Protocol option and click the next button: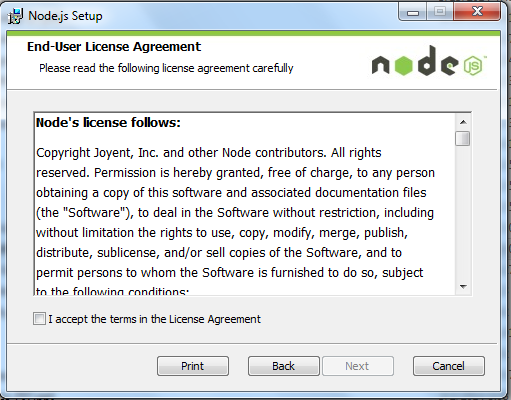 Step 4: The default installation directory for Node.js is "C:\Program Files\nodejs\". You can modify the directory and click next:
Step 5: Click on the tree icon to select the installation mode you need, then click Next next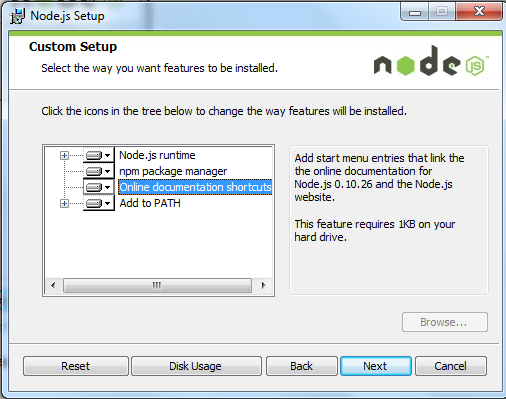 Step 6: Click Install to start installing Node.js. You can also click Back to modify the previous configuration. Then click next: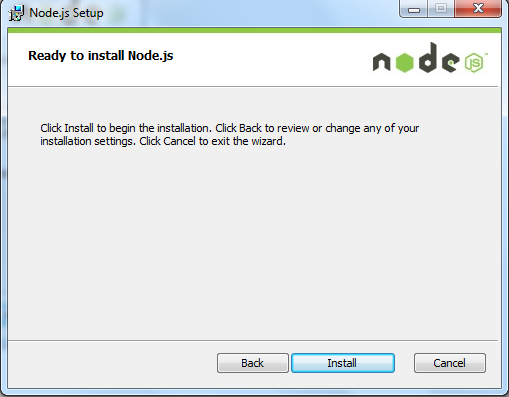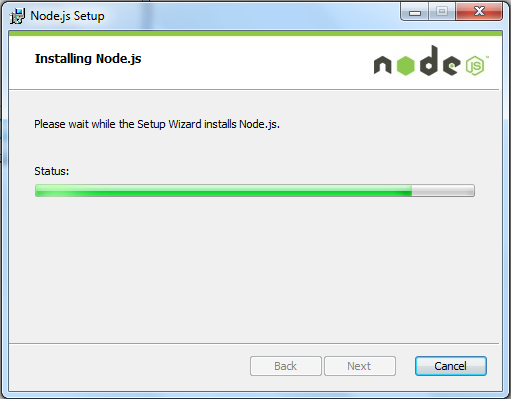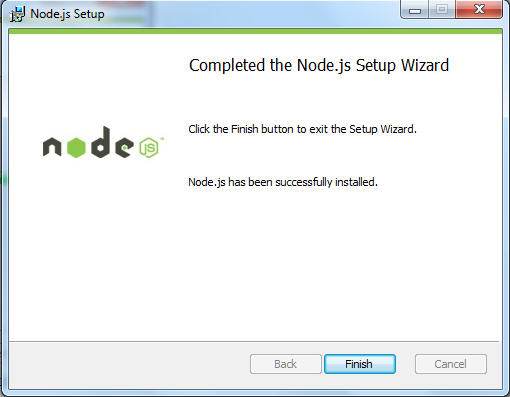 &

lt

;

span

class

=&

quot

;

pln

&

quot

;

&

gt

;

PATH

&

lt

;

/

span

&

gt

;

&

lt

;

span

class

=&

quot

;

pun

&

quot

;

&

gt

;

=&

lt

;

/

span

&

gt

;

&

lt

;

span

class

=&

quot

;

pln

&

quot

;

&

gt

;

C

&

lt

;

/

span

&

gt

;

&

lt

;

span

class

=&

quot

;

pun

&

quot

;

&

gt

;

:

&

lt

;

/

span

&

gt

;

&

lt

;

span

class

=&

quot

;

pln

&

quot

;

&

gt

;

\

oraclexe

\

app

\

oracle

\

product

\

1

&

lt

;

/

span

&

gt

;

&

lt

;

span

class

=&

quot

;

lit

&

quot

;

&

gt

;

0.2

&

lt

;

/

span

&

gt

;

&

lt

;

span

class

=&

quot

;

pun

&

quot

;

&

gt

;

.

&

lt

;

/

span

&

gt

;

&

lt

;

span

class

=&

quot

;

lit

&

quot

;

&

gt

;

0

&

lt

;

/

span

&

gt

;

&

lt

;

span

class

=&

quot

;

pln

&

quot

;

&

gt

;

\

server

\

b

&

lt

;

/

span

&

gt

;

&

lt

;

span

class

=&

quot

;

kwd

&

quot

;

&

gt

;

in

&

lt

;

/

span

&

gt

;

&

lt

;

span

class

=&

quot

;

pun

&

quot

;

&

gt

;

;

&

lt

;

/

span

&

gt

;

&

lt

;

span

class

=&

quot

;

pln

&

quot

;

&

gt

;

C

&

lt

;

/

span

&

gt

;

&

lt

;

span

class

=&

quot

;

pun

&

quot

;

&

gt

;

:

&

lt

;

/

span

&

gt

;

&

lt

;

span

class

=&

quot

;

pln

&

quot

;

&

gt

;

\

Windows

\

system32

&

lt

;

/

span

&

gt

;

&

lt

;

span

class

=&

quot

;

pun

&

quot

;

&

gt

;

;

&

lt

;

/

span

&

gt

;

&

lt

;

span

class

=&

quot

;

pln

&

quot

;

&

gt

;

C

&

lt

;

/

span

&

gt

;

&

lt

;

span

class

=&

quot

;

pun

&

quot

;

&

gt

;

:

&

lt

;

/

span

&

gt

;

&

lt

;

span

class

=&

quot

;

pln

&

quot

;

&

gt

;

\

Windows

&

lt

;

/

span

&

gt

;

&

lt

;

span

class

=&

quot

;

pun

&

quot

;

&

gt

;

;

&

lt

;

/

span

&

gt

;

&

lt

;

span

class

=&

quot

;

pln

&

quot

;

&

gt

;

C

&

lt

;

/

span

&

gt

;

&

lt

;

span

class

=&

quot

;

pun

&

quot

;

&

gt

;

:

&

lt

;

/

span

&

gt

;

&

lt

;

span

class

=&

quot

;

pln

&

quot

;

&

gt

;

\

Windows

\

System32

\

Wbem

&

lt

;

/

span

&

gt

;

&

lt

;

span

class

=&

quot

;

pun

&

quot

;

&

gt

;

;

&

lt

;

/

span

&

gt

;

&

lt

;

span

class

=&

quot

;

pln

&

quot

;

&

gt

;

C

&

lt

;

/

span

&

gt

;

&

lt

;

span

class

=&

quot

;

pun

&

quot

;

&

gt

;

:

&

lt

;

/

span

&

gt

;

&

lt

;

span

class

=&

quot

;

pln

&

quot

;

&

gt

;

\

Windows

\

System32

\

WindowsPowerShell

\

v

&

lt

;

/

span

&

gt

;

&

lt

;

span

class

=&

quot

;

lit

&

quot

;

&

gt

;

1.0

&

lt

;

/

span

&

gt

;

&

lt

;

span

class

=&

quot

;

pln

&

quot

;

&

gt

;

\

;

c

&

lt

;

/

span

&

gt

;

&

lt

;

span

class

=&

quot

;

pun

&

quot

;

&

gt

;

:

&

lt

;

/

span

&

gt

;

&

lt

;

span

class

=&

quot

;

pln

&

quot

;

&

gt

;

\

python32

\

python

&

lt

;

/

span

&

gt

;

&

lt

;

span

class

=&

quot

;

pun

&

quot

;

&

gt

;

;

&

lt

;

/

span

&

gt

;

&

lt

;

span

class

=&

quot

;

pln

&

quot

;

&

gt

;

C

&

lt

;

/

span

&

gt

;

&

lt

;

span

class

=&

quot

;

pun

&

quot

;

&

gt

;

:

&

lt

;

/

span

&

gt

;

&

lt

;

span

class

=&

quot

;

pln

&

quot

;

&

gt

;

\

MinGW

\

b

&

lt

;

/

span

&

gt

;

&

lt

;

span

class

=&

quot

;

kwd

&

quot

;

&

gt

;

in

&

lt

;

/

span

&

gt

;

&

lt

;

span

class

=&

quot

;

pun

&

quot

;

&

gt

;

;

&

lt

;

/

span

&

gt

;

&

lt

;

span

class

=&

quot

;

pln

&

quot

;

&

gt

;

C

&

lt

;

/

span

&

gt

;

&

lt

;

span

class

=&

quot

;

pun

&

quot

;

&

gt

;

:

&

lt

;

/

span

&

gt

;

&

lt

;

span

class

=&

quot

;

pln

&

quot

;

&

gt

;

\

Program

&

lt

;

/

span

&

gt

;

&

lt

;

span

class

=&

quot

;

typ

&

quot

;

&

gt

;

Files

&

lt

;

/

span

&

gt

;

&

lt

;

span

class

=&

quot

;

pln

&

quot

;

&

gt

;

\

GTK2

&

lt

;

/

span

&

gt

;

&

lt

;

span

class

=&

quot

;

pun

&

quot

;

&

gt

;

-

&

lt

;

/

span

&

gt

;

&

lt

;

span

class

=&

quot

;

typ

&

quot

;

&

gt

;

Runtime

&

lt

;

/

span

&

gt

;

&

lt

;

span

class

=&

quot

;

pln

&

quot

;

&

gt

;

\

lib

&

lt

;

/

span

&

gt

;

&

lt

;

span

class

=&

quot

;

pun

&

quot

;

&

gt

;

;

&

lt

;

/

span

&

gt

;

&

lt

;

span

class

=&

quot

;

pln

&

quot

;

&

gt

;

C

&

lt

;

/

span

&

gt

;

&

lt

;

span

class

=&

quot

;

pun

&

quot

;

&

gt

;

:

&

lt

;

/

span

&

gt

;

&

lt

;

span

class

=&

quot

;

pln

&

quot

;

&

gt

;

\

Program

&

lt

;

/

span

&

gt

;

&

lt

;

span

class

=&

quot

;

typ

&

quot

;

&

gt

;

Files

&

lt

;

/

span

&

gt

;

&

lt

;

span

class

=&

quot

;

pln

&

quot

;

&

gt

;

\

MySQL

\

MySQL

&

lt

;

/

span

&

gt

;

&

lt

;

span

class

=&

quot

;

typ

&

quot

;

&

gt

;

Server

&

lt

;

/

span

&

gt

;

&

lt

;

span

class

=&

quot

;

pln

&

quot

;

&

gt

;

&

lt

;

/

span

&

gt

;

&

lt

;

span

class

=&

quot

;

lit

&

quot

;

&

gt

;

5.5

&

lt

;

/

span

&

gt

;

&

lt

;

span

class

=&

quot

;

pln

&

quot

;

&

gt

;

\

b

&

lt

;

/

span

&

gt

;

&

lt

;

span

class

=&

quot

;

kwd

&

quot

;

&

gt

;

in

&

lt

;

/

span

&

gt

;

&

lt

;

span

class

=&

quot

;

pun

&

quot

;

&

gt

;

;

&

lt

;

/

span

&

gt

;

&

lt

;

span

class

=&

quot

;

pln

&

quot

;

&

gt

;

C

&

lt

;

/

span

&

gt

;

&

lt

;

span

class

=&

quot

;

pun

&

quot

;

&

gt

;

:

&

lt

;

/

span

&

gt

;

&

lt

;

span

class

=&

quot

;

pln

&

quot

;

&

gt

;

\

Program

&

lt

;

/

span

&

gt

;

&

lt

;

span

class

=&

quot

;

typ

&

quot

;

&

gt

;

Files

&

lt

;

/

span

&

gt

;

&

lt

;

span

class

=&

quot

;

pln

&

quot

;

&

gt

;

\

nodejs

\

;

C

&

lt

;

/

span

&

gt

;

&

lt

;

span

class

=&

quot

;

pun

&

quot

;

&

gt

;

:

&

lt

;

/

span

&

gt

;

&

lt

;

span

class

=&

quot

;

pln

&

quot

;

&

gt

;

\

Users

\

rg

\

AppData

\

Roaming

\

npm

&

lt

;

/

span

&

gt

;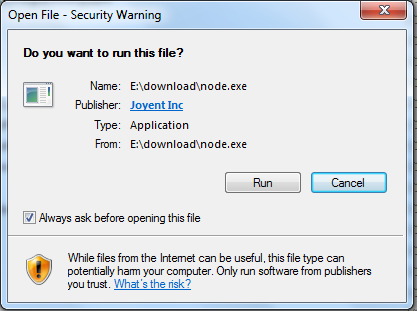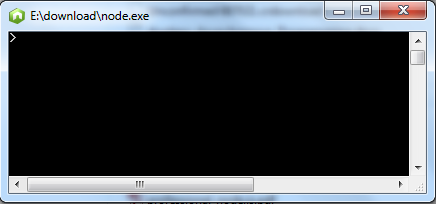 ---
&

lt

;

span

class

=&

quot

;

com

&

quot

;

&

gt

;

# wget https://nodejs.org/dist/v10.9.0/node-v10.9.0-linux-x64.tar.xz // 下载</span><span class="pln">

&

lt

;

/

span

&

gt

;

&

lt

;

span

class

=&

quot

;

com

&

quot

;

&

gt

;

# tar xf node-v10.9.0-linux-x64.tar.xz // 解压</span><span class="pln">

&

lt

;

/

span

&

gt

;

&

lt

;

span

class

=&

quot

;

com

&

quot

;

&

gt

;

# cd node-v10.9.0-linux-x64/ // 进入解压目录</span><span class="pln">

&

lt

;

/

span

&

gt

;

&

lt

;

span

class

=&

quot

;

com

&

quot

;

&

gt

;

# ./bin/node -v // 执行node命令 查看版本</span><span class="pln">

v10

&

lt

;

/

span

&

gt

;

&

lt

;

span

class

=&

quot

;

pun

&

quot

;

&

gt

;

.

&

lt

;

/

span

&

gt

;

&

lt

;

span

class

=&

quot

;

lit

&

quot

;

&

gt

;

9.0

&

lt

;

/

span

&

gt

;
&

lt

;

span

class

=&

quot

;

pln

&

quot

;

&

gt

;

ln

&

lt

;

/

span

&

gt

;

&

lt

;

span

class

=&

quot

;

pun

&

quot

;

&

gt

;

-

&

lt

;

/

span

&

gt

;

&

lt

;

span

class

=&

quot

;

pln

&

quot

;

&

gt

;

s

&

lt

;

/

span

&

gt

;

&

lt

;

span

class

=&

quot

;

pun

&

quot

;

&

gt

;

/

&

lt

;

/

span

&

gt

;

&

lt

;

span

class

=&

quot

;

pln

&

quot

;

&

gt

;

usr

&

lt

;

/

span

&

gt

;

&

lt

;

span

class

=&

quot

;

pun

&

quot

;

&

gt

;

/

&

lt

;

/

span

&

gt

;

&

lt

;

span

class

=&

quot

;

pln

&

quot

;

&

gt

;

software

&

lt

;

/

span

&

gt

;

&

lt

;

span

class

=&

quot

;

pun

&

quot

;

&

gt

;

/

&

lt

;

/

span

&

gt

;

&

lt

;

span

class

=&

quot

;

pln

&

quot

;

&

gt

;

nodejs

&

lt

;

/

span

&

gt

;

&

lt

;

span

class

=&

quot

;

pun

&

quot

;

&

gt

;

/

&

lt

;

/

span

&

gt

;

&

lt

;

span

class

=&

quot

;

pln

&

quot

;

&

gt

;

bin

&

lt

;

/

span

&

gt

;

&

lt

;

span

class

=&

quot

;

pun

&

quot

;

&

gt

;

/

&

lt

;

/

span

&

gt

;

&

lt

;

span

class

=&

quot

;

pln

&

quot

;

&

gt

;

npm

&

lt

;

/

span

&

gt

;

&

lt

;

span

class

=&

quot

;

pun

&

quot

;

&

gt

;

/

&

lt

;

/

span

&

gt

;

&

lt

;

span

class

=&

quot

;

pln

&

quot

;

&

gt

;

usr

&

lt

;

/

span

&

gt

;

&

lt

;

span

class

=&

quot

;

pun

&

quot

;

&

gt

;

/

&

lt

;

/

span

&

gt

;

&

lt

;

span

class

=&

quot

;

kwd

&

quot

;

&

gt

;

local

&

lt

;

/

span

&

gt

;

&

lt

;

span

class

=&

quot

;

pun

&

quot

;

&

gt

;

/

&

lt

;

/

span

&

gt

;

&

lt

;

span

class

=&

quot

;

pln

&

quot

;

&

gt

;

bin

&

lt

;

/

span

&

gt

;

&

lt

;

span

class

=&

quot

;

pun

&

quot

;

&

gt

;

/

&

lt

;

/

span

&

gt

;

&

lt

;

span

class

=&

quot

;

pln

&

quot

;

&

gt

;

ln

&

lt

;

/

span

&

gt

;

&

lt

;

span

class

=&

quot

;

pun

&

quot

;

&

gt

;

-

&

lt

;

/

span

&

gt

;

&

lt

;

span

class

=&

quot

;

pln

&

quot

;

&

gt

;

s

&

lt

;

/

span

&

gt

;

&

lt

;

span

class

=&

quot

;

pun

&

quot

;

&

gt

;

/

&

lt

;

/

span

&

gt

;

&

lt

;

span

class

=&

quot

;

pln

&

quot

;

&

gt

;

usr

&

lt

;

/

span

&

gt

;

&

lt

;

span

class

=&

quot

;

pun

&

quot

;

&

gt

;

/

&

lt

;

/

span

&

gt

;

&

lt

;

span

class

=&

quot

;

pln

&

quot

;

&

gt

;

software

&

lt

;

/

span

&

gt

;

&

lt

;

span

class

=&

quot

;

pun

&

quot

;

&

gt

;

/

&

lt

;

/

span

&

gt

;

&

lt

;

span

class

=&

quot

;

pln

&

quot

;

&

gt

;

nodejs

&

lt

;

/

span

&

gt

;

&

lt

;

span

class

=&

quot

;

pun

&

quot

;

&

gt

;

/

&

lt

;

/

span

&

gt

;

&

lt

;

span

class

=&

quot

;

pln

&

quot

;

&

gt

;

bin

&

lt

;

/

span

&

gt

;

&

lt

;

span

class

=&

quot

;

pun

&

quot

;

&

gt

;

/

&

lt

;

/

span

&

gt

;

&

lt

;

span

class

=&

quot

;

pln

&

quot

;

&

gt

;

node

&

lt

;

/

span

&

gt

;

&

lt

;

span

class

=&

quot

;

pun

&

quot

;

&

gt

;

/

&

lt

;

/

span

&

gt

;

&

lt

;

span

class

=&

quot

;

pln

&

quot

;

&

gt

;

usr

&

lt

;

/

span

&

gt

;

&

lt

;

span

class

=&

quot

;

pun

&

quot

;

&

gt

;

/

&

lt

;

/

span

&

gt

;

&

lt

;

span

class

=&

quot

;

kwd

&

quot

;

&

gt

;

local

&

lt

;

/

span

&

gt

;

&

lt

;

span

class

=&

quot

;

pun

&

quot

;

&

gt

;

/

&

lt

;

/

span

&

gt

;

&

lt

;

span

class

=&

quot

;

pln

&

quot

;

&

gt

;

bin

&

lt

;

/

span

&

gt

;

&

lt

;

span

class

=&

quot

;

pun

&

quot

;

&

gt

;

/

&

lt

;

/

span

&

gt

;
&

lt

;

span

class

=&

quot

;

pln

&

quot

;

&

gt

;

$

sudo

git

clone

https

&

lt

;

/

span

&

gt

;

&

lt

;

span

class

=&

quot

;

pun

&

quot

;

&

gt

;

:

&

lt

;

/

span

&

gt

;

&

lt

;

span

class

=&

quot

;

com

&

quot

;

&

gt

;

//github.com/nodejs/node.git</span><span class="pln">

&

lt

;

/

span

&

gt

;

&

lt

;

span

class

=&

quot

;

typ

&

quot

;

&

gt

;

Cloning

&

lt

;

/

span

&

gt

;

&

lt

;

span

class

=&

quot

;

pln

&

quot

;

&

gt

;

&

lt

;

/

span

&

gt

;

&

lt

;

span

class

=&

quot

;

kwd

&

quot

;

&

gt

;

into

&

lt

;

/

span

&

gt

;

&

lt

;

span

class

=&

quot

;

pln

&

quot

;

&

gt

;

&

lt

;

/

span

&

gt

;

&

lt

;

span

class

=&

quot

;

str

&

quot

;

&

gt

;

&

#039;node'</span><span class="pun">...</span>
&

lt

;

span

class

=&

quot

;

pln

&

quot

;

&

gt

;

$

sudo

chmod

&

lt

;

/

span

&

gt

;

&

lt

;

span

class

=&

quot

;

pun

&

quot

;

&

gt

;

-

&

lt

;

/

span

&

gt

;

&

lt

;

span

class

=&

quot

;

pln

&

quot

;

&

gt

;

R

&

lt

;

/

span

&

gt

;

&

lt

;

span

class

=&

quot

;

lit

&

quot

;

&

gt

;

755

&

lt

;

/

span

&

gt

;

&

lt

;

span

class

=&

quot

;

pln

&

quot

;

&

gt

;

node

&

lt

;

/

span

&

gt

;
&

lt

;

span

class

=&

quot

;

pln

&

quot

;

&

gt

;

$

cd

node

$

sudo

&

lt

;

/

span

&

gt

;

&

lt

;

span

class

=&

quot

;

pun

&

quot

;

&

gt

;

.

/

&

lt

;

/

span

&

gt

;

&

lt

;

span

class

=&

quot

;

pln

&

quot

;

&

gt

;

configure

$

sudo

make

install

&

lt

;

/

span

&

gt

;
&

lt

;

span

class

=&

quot

;

pln

&

quot

;

&

gt

;

$

node

&

lt

;

/

span

&

gt

;

&

lt

;

span

class

=&

quot

;

pun

&

quot

;

&

gt

;

--

&

lt

;

/

span

&

gt

;

&

lt

;

span

class

=&

quot

;

pln

&

quot

;

&

gt

;

version

v0

&

lt

;

/

span

&

gt

;

&

lt

;

span

class

=&

quot

;

pun

&

quot

;

&

gt

;

.

&

lt

;

/

span

&

gt

;

&

lt

;

span

class

=&

quot

;

lit

&

quot

;

&

gt

;

10.25

&

lt

;

/

span

&

gt

;
&

lt

;

span

class

=&

quot

;

pln

&

quot

;

&

gt

;

sudo

apt

&

lt

;

/

span

&

gt

;

&

lt

;

span

class

=&

quot

;

pun

&

quot

;

&

gt

;

-

&

lt

;

/

span

&

gt

;

&

lt

;

span

class

=&

quot

;

kwd

&

quot

;

&

gt

;

get

&

lt

;

/

span

&

gt

;

&

lt

;

span

class

=&

quot

;

pln

&

quot

;

&

gt

;

install

nodejs

sudo

apt

&

lt

;

/

span

&

gt

;

&

lt

;

span

class

=&

quot

;

pun

&

quot

;

&

gt

;

-

&

lt

;

/

span

&

gt

;

&

lt

;

span

class

=&

quot

;

kwd

&

quot

;

&

gt

;

get

&

lt

;

/

span

&

gt

;

&

lt

;

span

class

=&

quot

;

pln

&

quot

;

&

gt

;

install

npm

&

lt

;

/

span

&

gt

;
&

lt

;

span

class

=&

quot

;

pln

&

quot

;

&

gt

;

cd

&

lt

;

/

span

&

gt

;

&

lt

;

span

class

=&

quot

;

pun

&

quot

;

&

gt

;

/

&

lt

;

/

span

&

gt

;

&

lt

;

span

class

=&

quot

;

pln

&

quot

;

&

gt

;

usr

&

lt

;

/

span

&

gt

;

&

lt

;

span

class

=&

quot

;

pun

&

quot

;

&

gt

;

/

&

lt

;

/

span

&

gt

;

&

lt

;

span

class

=&

quot

;

kwd

&

quot

;

&

gt

;

local

&

lt

;

/

span

&

gt

;

&

lt

;

span

class

=&

quot

;

pun

&

quot

;

&

gt

;

/

&

lt

;

/

span

&

gt

;

&

lt

;

span

class

=&

quot

;

pln

&

quot

;

&

gt

;

src

&

lt

;

/

span

&

gt

;

&

lt

;

span

class

=&

quot

;

pun

&

quot

;

&

gt

;

/

&

lt

;

/

span

&

gt

;

&

lt

;

span

class

=&

quot

;

pln

&

quot

;

&

gt

;

wget

http

&

lt

;

/

span

&

gt

;

&

lt

;

span

class

=&

quot

;

pun

&

quot

;

&

gt

;

:

&

lt

;

/

span

&

gt

;

&

lt

;

span

class

=&

quot

;

com

&

quot

;

&

gt

;

//nodejs.org/dist/v0.10.24/node-v0.10.24.tar.gz</span>
&

lt

;

span

class

=&

quot

;

pln

&

quot

;

&

gt

;

tar

zxvf

node

&

lt

;

/

span

&

gt

;

&

lt

;

span

class

=&

quot

;

pun

&

quot

;

&

gt

;

-

&

lt

;

/

span

&

gt

;

&

lt

;

span

class

=&

quot

;

pln

&

quot

;

&

gt

;

v0

&

lt

;

/

span

&

gt

;

&

lt

;

span

class

=&

quot

;

pun

&

quot

;

&

gt

;

.

&

lt

;

/

span

&

gt

;

&

lt

;

span

class

=&

quot

;

lit

&

quot

;

&

gt

;

10.24

&

lt

;

/

span

&

gt

;

&

lt

;

span

class

=&

quot

;

pun

&

quot

;

&

gt

;

.

&

lt

;

/

span

&

gt

;

&

lt

;

span

class

=&

quot

;

pln

&

quot

;

&

gt

;

tar

&

lt

;

/

span

&

gt

;

&

lt

;

span

class

=&

quot

;

pun

&

quot

;

&

gt

;

.

&

lt

;

/

span

&

gt

;

&

lt

;

span

class

=&

quot

;

pln

&

quot

;

&

gt

;

gz

&

lt

;

/

span

&

gt

;
&

lt

;

span

class

=&

quot

;

pln

&

quot

;

&

gt

;

cd

node

&

lt

;

/

span

&

gt

;

&

lt

;

span

class

=&

quot

;

pun

&

quot

;

&

gt

;

-

&

lt

;

/

span

&

gt

;

&

lt

;

span

class

=&

quot

;

pln

&

quot

;

&

gt

;

v0

&

lt

;

/

span

&

gt

;

&

lt

;

span

class

=&

quot

;

pun

&

quot

;

&

gt

;

.

&

lt

;

/

span

&

gt

;

&

lt

;

span

class

=&

quot

;

lit

&

quot

;

&

gt

;

10.24

&

lt

;

/

span

&

gt

;

&

lt

;

span

class

=&

quot

;

pln

&

quot

;

&

gt

;

&

lt

;

/

span

&

gt

;

&

lt

;

span

class

=&

quot

;

pun

&

quot

;

&

gt

;

.

/

&

lt

;

/

span

&

gt

;

&

lt

;

span

class

=&

quot

;

pln

&

quot

;

&

gt

;

configure

&

lt

;

/

span

&

gt

;

&

lt

;

span

class

=&

quot

;

pun

&

quot

;

&

gt

;

--

&

lt

;

/

span

&

gt

;

&

lt

;

span

class

=&

quot

;

pln

&

quot

;

&

gt

;

prefix

&

lt

;

/

span

&

gt

;

&

lt

;

span

class

=&

quot

;

pun

&

quot

;

&

gt

;

=&

lt

;

/

span

&

gt

;

&

lt

;

span

class

=&

quot

;

str

&

quot

;

&

gt

;

/

usr

/

&

lt

;

/

span

&

gt

;

&

lt

;

span

class

=&

quot

;

kwd

&

quot

;

&

gt

;

local

&

lt

;

/

span

&

gt

;

&

lt

;

span

class

=&

quot

;

pun

&

quot

;

&

gt

;

/

&

lt

;

/

span

&

gt

;

&

lt

;

span

class

=&

quot

;

pln

&

quot

;

&

gt

;

node

&

lt

;

/

span

&

gt

;

&

lt

;

span

class

=&

quot

;

pun

&

quot

;

&

gt

;

/

&

lt

;

/

span

&

gt

;

&

lt

;

span

class

=&

quot

;

lit

&

quot

;

&

gt

;

0.10

&

lt

;

/

span

&

gt

;

&

lt

;

span

class

=&

quot

;

pun

&

quot

;

&

gt

;

.

&

lt

;

/

span

&

gt

;

&

lt

;

span

class

=&

quot

;

lit

&

quot

;

&

gt

;

24

&

lt

;

/

span

&

gt

;

&

lt

;

span

class

=&

quot

;

pln

&

quot

;

&

gt

;

make

install

&

lt

;

/

span

&

gt

;
&

lt

;

span

class

=&

quot

;

pln

&

quot

;

&

gt

;

vim

&

lt

;

/

span

&

gt

;

&

lt

;

span

class

=&

quot

;

pun

&

quot

;

&

gt

;

/

&

lt

;

/

span

&

gt

;

&

lt

;

span

class

=&

quot

;

pln

&

quot

;

&

gt

;

etc

&

lt

;

/

span

&

gt

;

&

lt

;

span

class

=&

quot

;

pun

&

quot

;

&

gt

;

/

&

lt

;

/

span

&

gt

;

&

lt

;

span

class

=&

quot

;

pln

&

quot

;

&

gt

;

profile

&

lt

;

/

span

&

gt

;
&

lt

;

span

class

=&

quot

;

com

&

quot

;

&

gt

;

#set for nodejs</span><span class="pln">

&

lt

;

/

span

&

gt

;

&

lt

;

span

class

=&

quot

;

kwd

&

quot

;

&

gt

;

export

&

lt

;

/

span

&

gt

;

&

lt

;

span

class

=&

quot

;

pln

&

quot

;

&

gt

;

NODE_HOME

&

lt

;

/

span

&

gt

;

&

lt

;

span

class

=&

quot

;

pun

&

quot

;

&

gt

;

=&

lt

;

/

span

&

gt

;

&

lt

;

span

class

=&

quot

;

str

&

quot

;

&

gt

;

/

usr

/

&

lt

;

/

span

&

gt

;

&

lt

;

span

class

=&

quot

;

kwd

&

quot

;

&

gt

;

local

&

lt

;

/

span

&

gt

;

&

lt

;

span

class

=&

quot

;

pun

&

quot

;

&

gt

;

/

&

lt

;

/

span

&

gt

;

&

lt

;

span

class

=&

quot

;

pln

&

quot

;

&

gt

;

node

&

lt

;

/

span

&

gt

;

&

lt

;

span

class

=&

quot

;

pun

&

quot

;

&

gt

;

/

&

lt

;

/

span

&

gt

;

&

lt

;

span

class

=&

quot

;

lit

&

quot

;

&

gt

;

0.10

&

lt

;

/

span

&

gt

;

&

lt

;

span

class

=&

quot

;

pun

&

quot

;

&

gt

;

.

&

lt

;

/

span

&

gt

;

&

lt

;

span

class

=&

quot

;

lit

&

quot

;

&

gt

;

24

&

lt

;

/

span

&

gt

;

&

lt

;

span

class

=&

quot

;

pln

&

quot

;

&

gt

;

&

lt

;

/

span

&

gt

;

&

lt

;

span

class

=&

quot

;

kwd

&

quot

;

&

gt

;

export

&

lt

;

/

span

&

gt

;

&

lt

;

span

class

=&

quot

;

pln

&

quot

;

&

gt

;

PATH

&

lt

;

/

span

&

gt

;

&

lt

;

span

class

=&

quot

;

pun

&

quot

;

&

gt

;

=&

lt

;

/

span

&

gt

;

&

lt

;

span

class

=&

quot

;

pln

&

quot

;

&

gt

;

$

NODE_HOME

&

lt

;

/

span

&

gt

;

&

lt

;

span

class

=&

quot

;

pun

&

quot

;

&

gt

;

/

&

lt

;

/

span

&

gt

;

&

lt

;

span

class

=&

quot

;

pln

&

quot

;

&

gt

;

bin

&

lt

;

/

span

&

gt

;

&

lt

;

span

class

=&

quot

;

pun

&

quot

;

&

gt

;

:

&

lt

;

/

span

&

gt

;

&

lt

;

span

class

=&

quot

;

pln

&

quot

;

&

gt

;

$

PATH

&

lt

;

/

span

&

gt

;
&

lt

;

span

class

=&

quot

;

pln

&

quot

;

&

gt

;

source

&

lt

;

/

span

&

gt

;

&

lt

;

span

class

=&

quot

;

pun

&

quot

;

&

gt

;

/

&

lt

;

/

span

&

gt

;

&

lt

;

span

class

=&

quot

;

pln

&

quot

;

&

gt

;

etc

&

lt

;

/

span

&

gt

;

&

lt

;

span

class

=&

quot

;

pun

&

quot

;

&

gt

;

/

&

lt

;

/

span

&

gt

;

&

lt

;

span

class

=&

quot

;

pln

&

quot

;

&

gt

;

profile

&

lt

;

/

span

&

gt

;
&

lt

;

span

class

=&

quot

;

pln

&

quot

;

&

gt

;

node

&

lt

;

/

span

&

gt

;

&

lt

;

span

class

=&

quot

;

pun

&

quot

;

&

gt

;

-

&

lt

;

/

span

&

gt

;

&

lt

;

span

class

=&

quot

;

pln

&

quot

;

&

gt

;

v

&

lt

;

/

span

&

gt

;
&

lt

;

span

class

=&

quot

;

str

&

quot

;

&

gt

;

/

usr

/

&

lt

;

/

span

&

gt

;

&

lt

;

span

class

=&

quot

;

kwd

&

quot

;

&

gt

;

local

&

lt

;

/

span

&

gt

;

&

lt

;

span

class

=&

quot

;

pun

&

quot

;

&

gt

;

/

&

lt

;

/

span

&

gt

;

&

lt

;

span

class

=&

quot

;

pln

&

quot

;

&

gt

;

node

&

lt

;

/

span

&

gt

;

&

lt

;

span

class

=&

quot

;

pun

&

quot

;

&

gt

;

/

&

lt

;

/

span

&

gt

;

&

lt

;

span

class

=&

quot

;

lit

&

quot

;

&

gt

;

0.10

&

lt

;

/

span

&

gt

;

&

lt

;

span

class

=&

quot

;

pun

&

quot

;

&

gt

;

.

&

lt

;

/

span

&

gt

;

&

lt

;

span

class

=&

quot

;

lit

&

quot

;

&

gt

;

24

&

lt

;

/

span

&

gt

;

&

lt

;

span

class

=&

quot

;

pun

&

quot

;

&

gt

;

/

&

lt

;

/

span

&

gt

;

&

lt

;

span

class

=&

quot

;

pln

&

quot

;

&

gt

;

lib

&

lt

;

/

span

&

gt

;

&

lt

;

span

class

=&

quot

;

pun

&

quot

;

&

gt

;

/

&

lt

;

/

span

&

gt

;

&

lt

;

span

class

=&

quot

;

pln

&

quot

;

&

gt

;

node_modules

&

lt

;

/

span

&

gt

;

&

lt

;

span

class

=&

quot

;

pun

&

quot

;

&

gt

;

/

&

lt

;

/

span

&

gt

;
---
---
1

2

3

4

5

6

7

8

9

10

11

12

13

14

15

16

17

18

&

lt

;

span

class

=&

quot

;

com

&

quot

;

&

gt

;

/*代码示例*/

&

lt

;

/

span

&

gt

;

&

lt

;

span

class

=&

quot

;

pln

&

quot

;

&

gt

;

&

lt

;

/

span

&

gt

;

&

lt

;

span

class

=&

quot

;

kwd

&

quot

;

&

gt

;

var

&

lt

;

/

span

&

gt

;

&

lt

;

span

class

=&

quot

;

pln

&

quot

;

&

gt

;

http

&

lt

;

/

span

&

gt

;

&

lt

;

span

class

=&

quot

;

pun

&

quot

;

&

gt

;

=&

lt

;

/

span

&

gt

;

&

lt

;

span

class

=&

quot

;

pln

&

quot

;

&

gt

;

&

lt

;

/

span

&

gt

;

&

lt

;

span

class

=&

quot

;

kwd

&

quot

;

&

gt

;

require

&

lt

;

/

span

&

gt

;

&

lt

;

span

class

=&

quot

;

pun

&

quot

;

&

gt

;

(

&

lt

;

/

span

&

gt

;

&

lt

;

span

class

=&

quot

;

str

&

quot

;

&

gt

;

&

#039;http'</span><span class="pun">);</span><span class="pln">

http

&

lt

;

/

span

&

gt

;

&

lt

;

span

class

=&

quot

;

pun

&

quot

;

&

gt

;

.

&

lt

;

/

span

&

gt

;

&

lt

;

span

class

=&

quot

;

pln

&

quot

;

&

gt

;

createServer

&

lt

;

/

span

&

gt

;

&

lt

;

span

class

=&

quot

;

pun

&

quot

;

&

gt

;

(

&

lt

;

/

span

&

gt

;

&

lt

;

span

class

=&

quot

;

kwd

&

quot

;

&

gt

;

function

&

lt

;

/

span

&

gt

;

&

lt

;

span

class

=&

quot

;

pln

&

quot

;

&

gt

;

&

lt

;

/

span

&

gt

;

&

lt

;

span

class

=&

quot

;

pun

&

quot

;

&

gt

;

(

&

lt

;

/

span

&

gt

;

&

lt

;

span

class

=&

quot

;

pln

&

quot

;

&

gt

;

request

&

lt

;

/

span

&

gt

;

&

lt

;

span

class

=&

quot

;

pun

&

quot

;

&

gt

;

,

&

lt

;

/

span

&

gt

;

&

lt

;

span

class

=&

quot

;

pln

&

quot

;

&

gt

;

response

&

lt

;

/

span

&

gt

;

&

lt

;

span

class

=&

quot

;

pun

&

quot

;

&

gt

;

)

&

lt

;

/

span

&

gt

;

&

lt

;

span

class

=&

quot

;

pln

&

quot

;

&

gt

;

&

lt

;

/

span

&

gt

;

&

lt

;

span

class

=&

quot

;

pun

&

quot

;

&

gt

;

{

&

lt

;

/

span

&

gt

;

&

lt

;

span

class

=&

quot

;

pln

&

quot

;

&

gt

;

&

lt

;

/

span

&

gt

;

&

lt

;

span

class

=&

quot

;

com

&

quot

;

&

gt

;

// 发送 HTTP 头部 </span><span class="pln">

&

lt

;

/

span

&

gt

;

&

lt

;

span

class

=&

quot

;

com

&

quot

;

&

gt

;

// HTTP 状态值: 200 : OK</span><span class="pln">

&

lt

;

/

span

&

gt

;

&

lt

;

span

class

=&

quot

;

com

&

quot

;

&

gt

;

// 内容类型: text/plain</span><span class="pln">

response

&

lt

;

/

span

&

gt

;

&

lt

;

span

class

=&

quot

;

pun

&

quot

;

&

gt

;

.

&

lt

;

/

span

&

gt

;

&

lt

;

span

class

=&

quot

;

pln

&

quot

;

&

gt

;

writeHead

&

lt

;

/

span

&

gt

;

&

lt

;

span

class

=&

quot

;

pun

&

quot

;

&

gt

;

(

&

lt

;

/

span

&

gt

;

&

lt

;

span

class

=&

quot

;

lit

&

quot

;

&

gt

;

200

&

lt

;

/

span

&

gt

;

&

lt

;

span

class

=&

quot

;

pun

&

quot

;

&

gt

;

,

&

lt

;

/

span

&

gt

;

&

lt

;

span

class

=&

quot

;

pln

&

quot

;

&

gt

;

&

lt

;

/

span

&

gt

;

&

lt

;

span

class

=&

quot

;

pun

&

quot

;

&

gt

;

{

&

lt

;

/

span

&

gt

;

&

lt

;

span

class

=&

quot

;

str

&

quot

;

&

gt

;

&

#039;Content-Type'</span><span class="pun">:</span><span class="pln"> </span><span class="str">'text/plain'</span><span class="pun">});</span><span class="pln">

&

lt

;

/

span

&

gt

;

&

lt

;

span

class

=&

quot

;

com

&

quot

;

&

gt

;

// 发送响应数据 "Hello World"</span><span class="pln">

response

&

lt

;

/

span

&

gt

;

&

lt

;

span

class

=&

quot

;

pun

&

quot

;

&

gt

;

.

&

lt

;

/

span

&

gt

;

&

lt

;

span

class

=&

quot

;

kwd

&

quot

;

&

gt

;

end

&

lt

;

/

span

&

gt

;

&

lt

;

span

class

=&

quot

;

pun

&

quot

;

&

gt

;

(

&

lt

;

/

span

&

gt

;

&

lt

;

span

class

=&

quot

;

str

&

quot

;

&

gt

;

&

quot

;

Hello

,

Universe

!

I

&

#039;m running on Cloud Studio!\n"</span><span class="pun">);</span><span class="pln">

&

lt

;

/

span

&

gt

;

&

lt

;

span

class

=&

quot

;

pun

&

quot

;

&

gt

;

}

)

.

&

lt

;

/

span

&

gt

;

&

lt

;

span

class

=&

quot

;

pln

&

quot

;

&

gt

;

listen

&

lt

;

/

span

&

gt

;

&

lt

;

span

class

=&

quot

;

pun

&

quot

;

&

gt

;

(

&

lt

;

/

span

&

gt

;

&

lt

;

span

class

=&

quot

;

lit

&

quot

;

&

gt

;

8888

&

lt

;

/

span

&

gt

;

&

lt

;

span

class

=&

quot

;

pun

&

quot

;

&

gt

;

)

;

&

lt

;

/

span

&

gt

;

&

lt

;

span

class

=&

quot

;

pln

&

quot

;

&

gt

;

&

lt

;

/

span

&

gt

;

&

lt

;

span

class

=&

quot

;

com

&

quot

;

&

gt

;

// 终端打印如下信息</span><span class="pln">

console

&

lt

;

/

span

&

gt

;

&

lt

;

span

class

=&

quot

;

pun

&

quot

;

&

gt

;

.

&

lt

;

/

span

&

gt

;

&

lt

;

span

class

=&

quot

;

pln

&

quot

;

&

gt

;

log

&

lt

;

/

span

&

gt

;

&

lt

;

span

class

=&

quot

;

pun

&

quot

;

&

gt

;

(

&

lt

;

/

span

&

gt

;

&

lt

;

span

class

=&

quot

;

str

&

quot

;

&

gt

;

&

#039;Server running at http://127.0.0.1:8888/'</span><span class="pun">);</span>